Automatic turntable stretch wrapper or pallet wrapper
Automatic turntable stretch wrapper or pallet wrapper model TRM500L
Automatic turntable stretch wrapper or pallet wrapper model TRM500L
Automatic turntable stretch wrapper or pallet wrapper model TRM500L
Automatic turntable stretch wrapper or pallet wrapper model TRM500L
Automatic turntable stretch wrapper or pallet wrapper model TRM500L
Automatic turntable stretch wrapper or pallet wrapper model TRM500L
Automatic turntable stretch wrapper or pallet wrapper model TRM500L
Automatic turntable stretch wrapper or pallet wrapper model TRM500L
Automatic turntable stretch wrapper or pallet wrapper model TRM500L
Automatic turntable stretch wrapper or pallet wrapper model TRM500L
Videos
Automatic turntable stretch wrappers: automatic wrapping system based on turntable that rotates concentrically with the pallet. This model does not require the presence of operators at the end of cycle due to cutting system 3ALL. In this stretch wrapper the load input, positioning and output  is automatic, with the necessary connections with conveyors and other machines of the system.
Technical features
EAR-FLAP®  profile
Production (according to load): up to 25 pallets/hour.
Turntable with soft start, indexed stop and variable speed.
Pneumatic clamp to hold film before the wrapping cycle.
Automatic film cutting arm.
Powered film carriage.
Electromagnetic brake (option).
Pre-stretch motor 300%.
Load height detection by photocell.
Controlled by PLC.
LCD control touch screen.
10 different wrapping programs.
⅝" chain for turntable drive.
½" chain for carriage drive.
Electric power:

b

ased on the country of destination

.
Installed power: 2 Kw.
Air pressure: 6 bar.
Standard pallet features (others on demand)
Type of wrapping: Vertical.
Maximum height: Up to 2.400 mm (consult about other heights).
Maximum dimensions pallet and load: 1.200 x 1.100 mm (consult about other dimensions).
Maximum weight: 1.200 Kg.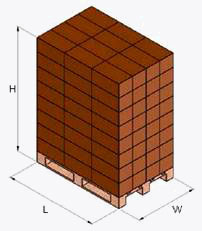 Coil specifications
PE sheet.
Width: 500mm.
Thickness: Up to 50 microns.
Versions
Stainless steel 304, 430.
Explosion proof.
Subzero temperatures.
Accessories
Top sheet dispenser TDM1800.
Powered top platen.
Hot sealing.
Electromagnetic brake.
Powered "M" pre-stretch (std.).
Flat platform (std.).
"Machine à la carte"