Top sheet dispenser
Top cover dispenser or top sheet dispenser model TDM1800
Top cover dispenser or top sheet dispenser model TDM1800
Top cover dispenser or top sheet dispenser model TDM1800
Top cover dispenser or top sheet dispenser model TDM1800
Videos

The top sheet dispenser completely covers the pallet with a layer of plastic, depending on the product's need.
Dust proof cycle: for this type of cycle the dispenser can be placed in line with pallet conveyors or before the stretch wrapper. With the top sheet dispenser the pallet is covered and, after that, the stretch wrapper gets it wrapped. Consequently, the load is protected against dust.
Rain proof cycle: The film reel-holder performs the cycle of wrapping except when reel-holder is above, the cycle is interrupted. The top sheet dispenser covers the pallet and then continues the cycle of wrapping up. Finally, the load is completely protected from dust and rain.
Standard pallet features (others on demand)
Production: up to 100 pallets/hour.
PLC.
Control panel with LCD touch screen and membrane keypad.
Film cutting through electric Nichrome wire.
Electric power:

b

ased on the country of destination

.
Installed power: 4 Kw.
Air pressure: 6 bar.
Load specifications
Height: 500 - 2400 mm.
Maximum load dimensions: (L) x 1,200 (W) 1,200 mm.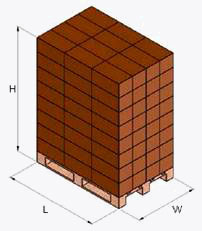 Coil specifications
PE sheet.
Coil width: 1600 - 1800 mm.
Film gauge: 50 microns. - 100 microns.
Versions
Stainless steel 304.
Explosion proof.
Subzero temperatures.
Options
"Machine à la carte"