Automatic turntable stretch wrapper or pallet wrapper
Automatic turntable stretch wrapper or pallet wrapper model TRM1500
Automatic turntable stretch wrapper or pallet wrapper model TRM1500
Automatic turntable stretch wrapper or pallet wrapper model TRM1500
Automatic turntable stretch wrapper or pallet wrapper model TRM1500
Automatic turntable stretch wrapper or pallet wrapper model TRM1500
Automatic turntable stretch wrapper or pallet wrapper model TRM1500
Automatic turntable stretch wrapper or pallet wrapper model TRM1500
Automatic turntable stretch wrapper or pallet wrapper model TRM1500
Automatic turntable stretch wrapper or pallet wrapper model TRM1500
Automatic turntable stretch wrapper or pallet wrapper model TRM1500
Automatic turntable stretch wrapper or pallet wrapper model TRM1500
Automatic turntable stretch wrapper or pallet wrapper model TRM1500
Automatic turntable stretch wrapper or pallet wrapper model TRM1500
Automatic turntable stretch wrapper or pallet wrapper model TRM1500
Videos
Technical features
EAR-FLAP® profile.
Production (according to operator and load): up to 35 pallets/hour.
Turntable with soft start, indexed stop and variable speed.
3ALL set (features clamping, cutting and dolly heat sealing).
Powered film reel holder.
Powered film pre-stretch.
Load height detection by photocell (Option: detection by ultrasounds).
Optical and acoustic warning for anomalies and malfunctioning.
Controlled by PLC.
Control panel with LCD touch screen displaying user friendly graphics for the operation.
V-belt for turntable drive.
½" chain for carriage drive.
Electric power:

b

ased on the country of destination

.
Installed power: 4 Kw.
Air pressure: 6 bar.
Standard pallet features (others on demand)
Type of wrapping: Vertical.
Maximum height: Up to 2.400 mm (consult about other heights).
Maximum dimensions pallet and load: 1.200 x 1.100 mm (consult about other dimensions).
Maximum weight: 2.000 Kg.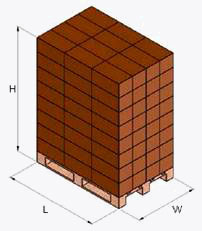 Coil specifications
PE sheet.
Width: 500mm.
Thickness: up to 50 microns.
Options
Turntable with 3 or 5 powered chains.
Special heights: 2.800 mm, 3.000 mm.
Special turntables: Ø 2.400 mm, Ø 3.000 mm.
Special weights: 3.000 Kgs.
Versions
Sainless steel 430, 304.
Explosion proof.
Subzero temperatures.
Accessories
Top sheet dispenser TDM1800.
Powered top platen.
Powered "M" pre-stretch.
"Machine à la carte"